Join Haylie's 7-Day Fast Metabolism Quick Start Halloween Party!
7 Day FMD Quick Start Booklet

Custom Meal Plans
Grocery Lists
Recipes
Free Community Support

Daily Events and Watch Parties
AND MORE!
What's Included In This program?
4.8 Stars From 448 Facebook Reviewers
days
hours
minutes
seconds
days
hours
minutes
seconds
"Haylie's 7 Day Halloween Party" Officially Starts on October 26th and begins in:
This is a LIVE and INTERACTIVE Event!
Click Here for the Itinerary

CLICK HERE to join us on Facebook for this incredible 7- Day Live Event!
All events take place at 8:00 am PST (unless noted otherwise)
but can be rewatched during the event's duration.
Mon., Oct. 26: Bloody Mary Mocktail Party - Facebook LIVE Event @ 8:00 am PST
Let's grab a spooktacular drink and chat a bit about your metabolism. I will be sharing my Very Scary Bloody Mary Metabolism-Boosting Mocktail Recipe!

Tues., Oct. 27: Bobbing for Apples - Watch Party @ 8:00 am PST
Let's talk about pectin! Post a picture of your favorite FMD recipe using apples, (one my creations or yours) for a chance to be featured in our next digital cookbook!

Wed., Oct. 28: BOOujee DIY Face Masks - Facebook LIVE Event @ 8:00 am PST
The skin is the largest organ in the body. Face masks can be a great way to detox and get the scale moving again!

Thurs., Oct. 29: Pepper Carving Contest - Watch Party @ 8:00 am PST
Post your cutest stuffed bell pepp-o-lantern (on my Instagram @hayliepomroy). One lucky winner will be gifted a bottle of Metabolism Control to help control holiday cravings! @hayliepomroy #fmd4life #fastmetabolismdiet #hayliepomroy #peppersarethenewpumpkin

Fri., Oct. 30: COSTUME PARTY - LIVE WEBINAR @ 5:00 pm PST
We are going to have a LIVE Halloween party full of fun events, and I want you there! Of course, we will have a costume contest and are giving spooktacular prizes in these three categories:
• Come as your favorite healthy food
• Come decked out with all of your books and Haylie Pomroy swag
• Come as your favorite product (Shhhhhh... I am coming as the Metabolism Shake)

Sat., Oct. 31: Oodles of Noodles - Watch Party @ 8:00 am PST
I'll show you a Spooktacular way to make gluten-free pasta. Post your favorite gluten-free pasta recipe on our private Double-Feature Facebook page.
Sun., Nov. 1: Keep the Party Going - Watch Party @ 8:00 am PST
Keep the momentum going and learn more about what this amazing community has to offer and ways to become more involved.

Every meal and snack has been planned for your greatest success!
Our 7-day FMD Quick Start meal map includes recipes and delicious snacks that are designed for each phase to Unwind Stress, Unlock Stored Fat, and Unleash the Burn with healthy, nutrient-rich foods.
This program has been engineered from the start to support your success, which is why we have such amazing testimonials. Our members feel both supported and empowered to stay on track!
A Custom 7-Day Fast Metabolism Meal Plan
It's simple: You'll whip up whole-food shakes with your included blender bottle for the program's daily meal and snack replacements. The filling shakes allow you to load up on nutrients, vitamins, and essential minerals while not feeling hungry.
Follow the FMD Quick Start Booklet to eat nutritious and delicious food while also leaning on shakes to ignite your metabolism and burn fat.
Order your FMD Kit by October 16th in time for the Halloween Party.
Let's Ignite our Metabolisms Together
This is not a starvation diet and it's anything but boring! Targeted master food lists promote the body's natural detox system to stimulate rapid fat burning. All the recipes included are based on this powerful food list, developed for both clinical and field uses. And the FMD food list features ALL the foods allowed listed by Phase that will deliver maximum success to increase your Metabolism.
Targeted Master Food Lists
We've taken this challenge to a new, interactive level for maximum results, so you'll now be supported start to finish with daily virtual events. From LIVE sessions to Watch Parties to Demos and more, you'll be in the thick of the action like never before. You'll even be invited to cook right alongside Haylie during a Facebook Live and Watch Party cooking demonstration! Of course, you'll still have support from daily emails and the Resource Page to help keep you on your plan. Knowing you are not alone will make your journey all the better.
Daily Emails, Video Training & Facebook Live and Watch Parties
If you choose to save an extra 10% and join as an official member (free the first 30 days so you can see the difference for yourself), then you will also receive access to the coveted members' support group. This is NOT the same group as the challenge and is for our members only (not required to participate in the challenge, but highly encouraged). The group is a great place to ask your general questions, get encouragement and support from other challengers, and feel the love from Haylie and her amazing staff.
Free 30-Day Private Community Pass
Along with healthy nutrient-rich food, the Fast Metabolism Quick Start Kit contains everything you need to maximize your success on the path to a better you! The FMD Quick Start Kit includes one tub each of Fast Metabolism Shake powder for Phases 1,2, 3, a bottle of Metabolism Multi, a blender bottle, and the 14-day Quick Start Program Workbook.
Fast Metabolism Quick-Start Kit
ON SALE NOW! 25% OFF
USE COUPON CODE: FALL25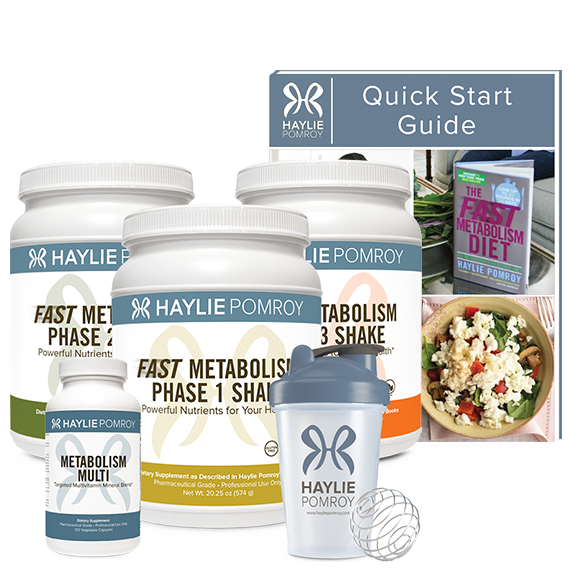 Haylie Pomroy is a #1 New York Times bestselling author, leading health and wellness entrepreneur, celebrity nutritionist, and motivational speaker whose "Food is Medicine" philosophy resonates deeply with her fans. Her community includes real people who have lost millions of pounds and gained immeasurable energy and health. Through her strategic programs, Haylie has proven that there is power on your plate. She believes people can fall in love with delicious and decadent food because eating is a positive, biological exercise and food functions as the body's ally, not its enemy. She understands that people really can eat more food and lose more weight.
4.8 Stars From 448 Facebook Reviewers

Haylie Pomroy has been a featured speaker & nutritionist on all of these popular media outlets.
"KICK START TO BETTER HEALTH"
My doctor recommended Haylie's program to me and I've been hooked ever since. I do the 10-day cleanse every three months and have noticed an increase in energy. But better than that, my doctor has noticed amazing differences in my labs! I highly recommend this program.
"EMOTIONAL BALANCE"
This has been the easiest 10-day cleanse for me! I had noticed some anxiety due to the pandemic, but who knew a cleanse would completely eliminate it! So grateful to have some structure/normalcy at this time!
"EXCELLENT TOOL TO HELP FOCUS"
I feel wonderful and I have achieved substantial weight loss. The program is easy and the shakes taste great! An excellent tool to help me focus on weight loss and improve my health! I have done it several times and look forward to more challenges with improved success...
"WHOLE BODY TRANSFORMATION"
I've had only success, and much improved overall health and well-being. When I'm on the cleanse, it's like a 10-Day whole body transformation. My skin is tighter and glows, my sleep is great, and the pounds come off.
4.8 Stars From 448 Facebook Reviewers
Join the 7-Day FMD Halloween Party Today!
days
hours
minutes
seconds
days
hours
minutes
seconds
4.8 Stars From 448 Facebook Reviewers
"Haylie's 7 Day Halloween Party" Officially Starts on October 26th and begins in:
Copyright © 2020 Haylie Pomroy. All rights reserved
The material on this website is for informational purposes only and is not intended as a substitute for the advice and care of your physician. As with all new weight loss or weight maintenance regimes, the nutrition program described on this website should be followed only after first consulting with your physician to make sure it is appropriate for your individual circumstances. Keep in mind that nutritional needs vary from person to person, depending on age, sex, health status, and total diet. Responsibility for any adverse effects that may result from the use or application of the information contained on this website is expressly disclaimed.