"This is not a book for first-time dieters. It is a book for last-time dieters." -Haylie Pomroy

FREE HARDCOVER COPY of the #1 NYT BEST SELLING BOOK!
Lose up to 20 pounds in 28 days with Haylie Pomroy's #1 New York Times Best Seller, The Fast Metabolism Diet!
EAT MORE FOOD & LOSE MORE WEIGHT
Receive Haylie's flagship book for FREE today, just pay shipping ($9.99 *Limit 1 per customer).
ABOUT THE FAST METABOLISM DIET
Haylie Pomroy has helped thousands of clients lose up to twenty pounds in just four weeks—all through the fat-burning power of food. Hailed as "the metabolism whisperer" Haylie reminds us that food is not the enemy but medicine needed to rev up your sluggish, broken-down metabolism to turn your body into a fat-burning furnace.
On this plan you're going to eat a lot—three full meals and at least two snacks a day—and you're still going to lose weight. What you're not going to do is count a single calorie or fat gram, or go carb-free or ban enter food groups. Instead, you're going to rotate what you eat throughout each week according to a simple and proven plan carefully designed to induce precise physiological changes that will set your metabolism on fire.
Phase 1 (Monday-Tuesday): Lots of carbs and fruits
Phase 2 (Wednesday-Thursday): Lots of proteins and veggies
Phase 3 (Friday-Sunday): all of the above, plus healthy fats and oils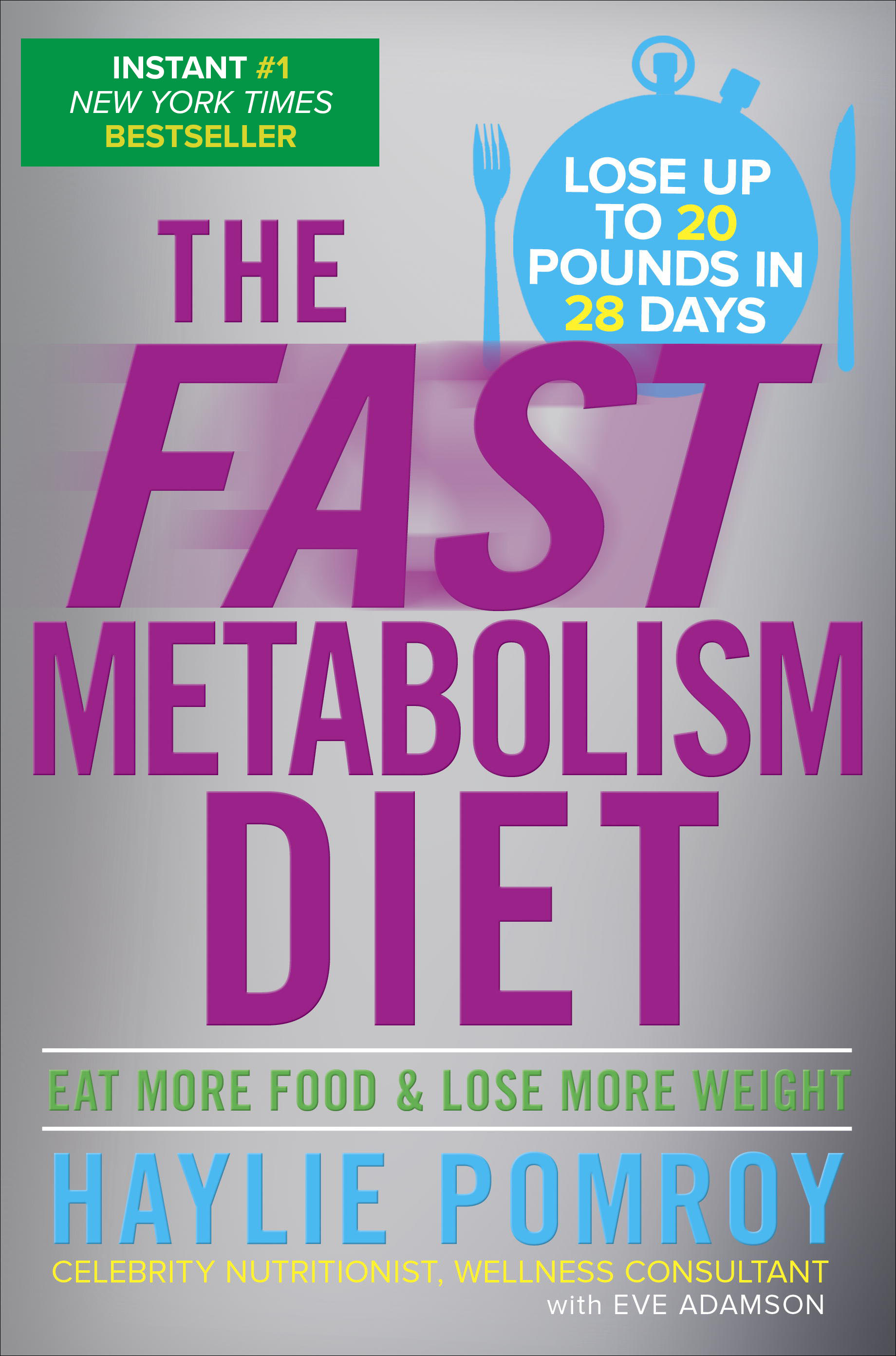 By keeping your metabolism guessing in this specific and deliberate way, you'll get it working faster. This isn't just a theory, it's the results-based product of Haylie Pomroy's successful programs. It has worked for celebrities, for athletes, and for people with chronic illnesses who need to lose weight, doctor's orders. Now it's going to work for you.
In four weeks you'll not only see the weight fall off, but don't be surprised to find your cholesterol drop, blood sugar stabilize, energy increase, sleep improve, and stress melt away as well.
Complete with four weeks of meal plans and more than fifty recipes—including vegetarian, organic, and gluten-free options—this is the silver bullet for the chronic dieter who has tried every fad diet and failed, for the first-time dieter attempting to kick his or or her metabolism into gear, and for anyone who wants to naturally and safely eat his or her way to a skinnier, healthier self.
Order Your Free Copy of The FAST METABOLISM DIET BOOK Today!
Haylie Pomroy is a #1 New York Times bestselling author, leading health and wellness entrepreneur, celebrity nutritionist, and motivational speaker whose "Food is Medicine" philosophy resonates deeply with her fans. Her community includes real people who have lost millions of pounds and gained immeasurable energy and health. Through her strategic programs, Haylie has proven that there is power on your plate. She believes people can fall in love with delicious and decadent food because eating is a positive, biological exercise and food functions as the body's ally, not its enemy. She understands that people really can eat more food and lose more weight.
HERE'S WHAT EXPERTS ARE SAYING ABOUT THE FAST METABOLISM DIET
"This is not a fad diet. It's a medically proven method of food as medicine to fight obesity, cure chronic illness, and heal a broken metabolism. Haylie's years of experience and wisdom blends the perfectly delicious plan to create revolutionary results." -Jaqueline Fields, MD
"Haylie's program is medically sound and grounded in real science, not untested theories or anecdotal evidence. There is nothing mysterious about it. Haylie has an intimate knowledge of how our metabolism works and how biochemical changes triggered by diet can speed it up or slow it down. Best of all, her program works quickly, thoroughly, and the results last. People weren't gaining back the weight.
Haylie provides a light at the end of the proverbial tunnel of diet despair....So, congratulations! With Haylie Pomroy's help, you and your metabolism are about to start healing." -Bruce M. Stark, MD
"Its about the food. Take it seriously or perish. It's that simple. Haylie Pomroy gets it. " -Suzanne Somers, Health Advocate and New York Times Best Selling Author
"Haylie Pomroy give you real practical programs to nurture the body back to health"-Deepak Chopra, MD
"In this innovative and ambitious book, Haylie Pomroy offers powerful nutritional solutions for a wide range of common health issues. I love seeing creative approaches to better health, like the ones offered here. This book validates that food is our most potent weapon against disease and our greatest ally in in the quest for vitality." -Dr. Terry Wahls, Bestselling author of The Wahls Protocol
"A complete guidebook that will help you regain your health and reverse chronic disease with your own kitchen pharmacy. This is a factual program free of fads and fallacies that can heal your body, one bite at a time." –Alan Christianson, NMD, Author of the New York Time Bestseller, The Adrenal Reset Diet
"Haylie Pomroy provides real-life solutions for problems plaguing our nation's health." -Mark Hyman, MD
The scale in no way reflects the amazing changes I have experienced in the way I feel, my BP, cholesterol and overall health as well as in inches.
I FEEL so good! Energized & stronger. And i LOVE this way of eating. I don't crave unhealthy food. I don't feel deprived or like I'm missing out.
I have been eating the FMD way for over four months now. I'm twenty-five pounds lighter, my knees thank me, my joints are happy and the vitamins are exceptional quality. Everything Haylie says is true about her products and I'm happy living the Haylie Pomroy life style!